Revised plans for Christie Hospital approved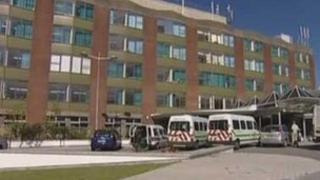 Revised plans for a £20m development at the Christie Hospital in Withington have been given the go-ahead.
The hospital wants to build a new cancer research facility with parking for at least 750 cars, but local people opposed the development and it was turned down in January.
Manchester City Council has now approved revised plans which no longer include a multi-storey car park.
The new building will focus entirely on early cancer research.
Councillor Chris Paul, who represents people who live near the hospital, said coming to an agreement was an "uncomfortable process" at times.
He said: "We all support the work of the Christie, and most people in Manchester and the region know people who have benefited from treatment there and from the research that goes on there, so it was a very difficult thing.
"But at the same time it's very important that Christie are as neighbourly as they can be."
'Vibrant environment'
Director of the Manchester Cancer Research Centre (MCRC) Professor Nic Jones said he was "delighted" the revised planning application had been approved.
He said: "The MCRC can now continue to expand and deliver research that has life-changing potential for cancer patients.
"The MCRC's vision is the development of personalised cancer treatments, based on improved knowledge of each individual's disease characteristics, leading to better patient outcomes.
"The new research building will ensure that the MCRC provides outstanding opportunities and a vibrant environment for researchers, clinicians and external partners to work collaboratively towards this vision."
Work is due to start on the new building within a few months.
The Christie treats more than 40,000 patients a year, with about a quarter of patients referred from other parts of the country for specialist treatment.