FC United of Manchester reach £1.6m share target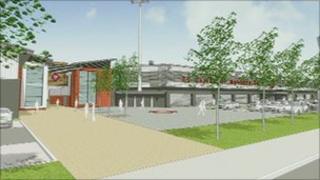 A Manchester football club has raised £1.6m from a community share issue to help fund the building of a new ground.
FC United of Manchester offered shares to raise money to build a stadium and community sports facility in Moston.
General manager Andy Walsh said it was a "fantastic achievement, especially in the current economic climate".
Co-operatives UK, a trade association for co-operatives, has praised the Evo-Stik League Premier Division club for its use of community shares.
FC United worked with the organisation to produce a share scheme that would support the community as well as the club and avoid traditional funding methods such as bank borrowing.
Fans' protest
A club spokesman said the money, coupled with a further £250,000 raised in a separate development fund, would unlock other grant funding to allow the £4.6m project to go ahead.
The club, which formed in 2005 by Manchester United fans as a protest against American businessman Malcolm Glazer's takeover, is run by its supporters.
Mr Walsh said shareholders would have "just one vote regardless of the number of shares they hold, [thereby] preserving the common ownership of the club".
He added that the community shares were "a unique development in English football and has been recognised as offering a real alternative to the way football is run and financed".
"We believe community shares is preferable way of raising finance to borrowing from banks and more sustainable than relying on wealthy individuals who may not always have the best interest of the club at heart," he said.
"By buying community shares, FC United members are supporting a better way for football to deliver genuine community benefit - one that is owned and run by supporters and committed to wider community and social development and financial sustainability."
'Pioneering model'
Ed Mayo, secretary general of Co-operatives UK said that "through hard work and open collaboration, FC United has become a beacon for sport and community action".
"Hollywood could not write a better script of hope and triumph," he said.
"I want to pay tribute to the members of the club for pioneering a model of community shares which is now being used as a form of lifeline finance for co-operative enterprise across the UK."
The spokesman said the club were hopeful that work on the stadium and sports complex would begin soon.
FC United currently play their home games at either Bury's Gigg Lane or Stalybridge Celtic's Bower Fold.