Bolton's £48m bus station plans approved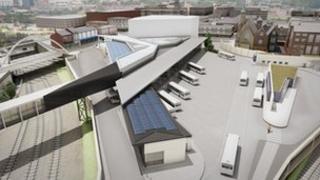 Plans for a £48m transport interchange in Bolton have been given the go-ahead by councillors.
Under the proposals buses will use a new interchange next to Trinity Street railway station instead of the current Moor Lane site.
The plans feature an enclosed pedestrian footbridge linking the bus and rail facilities, two lifts and a cycle centre with secure parking.
The plans were approved at a council planning meeting.
Councillor Andrew Fender, who is on the Transport for Greater Manchester Committee and was at the meeting, said: "It will give us much improved links between the rail station and the bus station next door."
Keith Davies, director of development and regeneration for Bolton Council, said: "It is a state of the art 21st Century facility, right in the heart of the town centre."
Mr Davies said the existing bus station site, near Bolton Market, would not be left to become derelict.
He said: "The council has committed £4.5m to refurbish Bolton Market which is a great facility.
"The old bus station site is right next door so it will clearly be a development opportunity.
"We will work with Transport for Greater Manchester to make sure that we've got something that works for the town centre as well."
The work, funded by Greater Manchester Transport Fund, is expected to be completed by the end of 2014.