Diamond Jubilee: Bolton and Stockport unsuccessful in city bids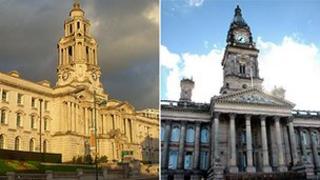 Two Greater Manchester towns have been unsuccessful in their bids to become cities as part of the Queen's Diamond Jubilee celebrations.
Bolton and Stockport were among 26 towns from the UK bidding for civic honours.
Stockport council leader Dave Goddard said the bid had been "£250 well spent".
Chelmsford, Perth and St Asaph were were the three places granted city status in the competition.
Salford also failed in its bid to be granted a lord mayoralty as part of the celebrations. Armagh was given that status.
Leader of Bolton Council, Cliff Morris, said the town was "naturally disappointed not to have been selected".
"However, what the process has given us is the opportunity to promote all that is good about Bolton," he said.
"Bolton is a vibrant town with much to offer and we are working hard to regenerate it for the benefit of all our communities.
"We are confident that Bolton will continue to go from strength to strength and we will continue to strive to make this happen."
Stockport Council leader Dave Goddard said he wanted to "congratulate the winning towns and will redouble our efforts to continue to raise the profile of Stockport, which in my view is a city in all but name".
"I still maintain it was £250 well spent - Stockport is unique, historic and a great place to live, work, invest and relax in," he said.
City status is rarely granted and in the last contest - held in 2002 for the Queen's Golden Jubilee - Preston, Newry and Newport were among the winners.