Leanne McNuff: Family tribute to 'kind-hearted girl'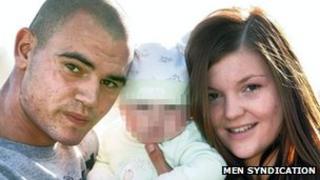 The parents of a woman who was stabbed to death in Greater Manchester have paid tribute to her as a "beautiful, kind-hearted and generous girl".
Leanne McNuff, 24, was found with stab wounds at her house on Mellor Street in Droylsden on Sunday. She was taken to hospital but died a short time later.
Margaret and James McNuff said she "was loved by everyone who knew her".
Her boyfriend, 24-year-old serving soldier Ian Lowe is being questioned on suspicion of murder.
A post-mortem examination found Ms McNuff died from multiple stab wounds.
Mr and Mrs McNuff said Leanne had a "great sense of humour", "lovely manners" and had "lived and breathed for her four-year-old son, Jaden, who in turn idolised and adored his mummy".
'Understandably distraught'
Mr Lowe, who serves with the 1st Battalion the Duke of Lancaster's Regiment, is being questioned in connection with the death.
He previously featured in an interview in the Manchester Evening News in February 2008 when he returned from a tour of Iraq.
Miss McNuff had given birth to their son Jaden 10 days earlier.
He told the newspaper: "It was wonderful to see him. I was worrying about Jaden and Leanne but my mates knew what I was going through and were very supportive."
Det Supt Vincent Petrykowski, of Greater Manchester Police, said the investigation was in the "early stages" and that police were "working to establish the full circumstances of what happened".
"Our thoughts are with Leanne's family and friends at this time, who are understandably distraught that their loved one has been taken from them in this way.
"I would like to reassure residents that we do not believe there is any danger to the community."
He added that it was being treated as "an isolated incident" and urged anyone who might have seen something to get in touch.
A spokesman for the Ministry of Defence said: "We can confirm that on March 11, a serving soldier from 1 Lancs was arrested on suspicion of murder.
"The matter is subject to an ongoing civil police investigation and it would be inappropriate to comment further whilst this is ongoing."
The 1st Battalion of the Duke of Lancaster's Regiment is stationed in Somme Barracks, Catterick, in North Yorkshire.
'Special lady'
Friends and neighbours of Miss McNuff have left tributes to her outside her home.
A white tent set up for forensic investigation has been set up outside, near bunches of flowers laid against the garden wall.
Neighbour Toni Durand, 26, took a wreath to the house with her two-year-old son, Junior.
She said: "People are shocked because she was so young as well and the little boy and living next door to her mum and things like that, it really is horrible.
"The little boy was always happy and running around with his Nanna. We have seen them outside a couple of times and they had a little dog, a little white puppy.
"That is what's more upsetting than anything else - the little boy, because he's lost his mum. It is heartbreaking."
Notes left attached to bouquets spoke of a "very special lady".
One, signed by "Sara's Nanna, Sara and Jordan", read: "God bless Leanne. A beautiful girl and lovely mum. Will always remember."