Rape case reopened after DNA forensics blunder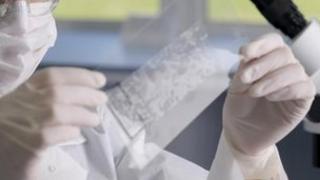 A rape case is being reopened after a DNA mistake which led to a man being wrongly accused of a sex attack in Manchester.
The man, from Devon, was due to go on trial accused of raping a woman at Plant Hill Park, Blackley, in October.
But it has emerged that the DNA sample was contaminated in the laboratories of a company called LGC Forensics.
Greater Manchester Police is reviewing some cases in which the same company processed forensic evidence.
GMP Assistant Chief Constable Steve Heywood said the force was made aware on Tuesday that the DNA profile provided by LGC Forensics was "contaminated during the testing process in their laboratories".
'Deep regrets'
The force contacted the Crown Prosecution Service which dropped the case.
Mr Heywood said: "Our sympathies and thoughts are with the victim who has been through a traumatic ordeal.
"This is clearly an upsetting time and we are doing all we can to support her.
"The exact circumstances of how the sample was contaminated at the laboratory are yet to be established but I am determined to discover what has occurred.
"In addition we will be conducting an internal review of some investigations where LGC Forensics has been used in the processing of forensic evidence. At this time there is nothing to suggest any other cases within GMP will be affected."
A statement from LGC Forensics said: "LGC deeply regrets that forensic evidence was contaminated in one of our laboratories.
"LGC has already identified the cause of this contamination and has taken steps to ensure that it cannot happen again.
"Our procedure for tracking, identifying and reporting potential contamination will be immediately reviewed and updated."
The firm declined to reveal the circumstances surrounding the mistake.