Queen to meet 'Manchester Diamonds' on jubilee tour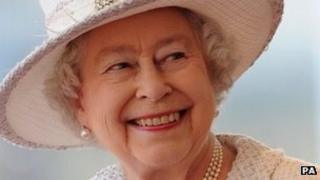 The Queen will meet 1,000 "community champions" at a garden party in Manchester as part of her Diamond Jubilee tour of the UK.
Dubbed the "Manchester Diamonds", the people who have made a difference to their community will meet the Queen and the Duke of Edinburgh, on 23 March.
The Queen will also unveil a Jubilee Garden in Albert Square.
The Lord Mayor of Manchester, Harry Lyons, said he was "over the moon" the royal couple are to visit the city.
"We really wanted to ensure that during this visit the Queen would meet as many Mancunians as possible who have made a contribution to their city - and help ensure her reign has been such a success," he said.
'Thrilled to bits'
"They really are Manchester Diamonds and the opportunity to meet our country's head of state in such a landmark year is a way of demonstrating that their dedication is recognised at the very highest levels."
One of guests at the garden party will be 83-year-old Dena Murphy, who has been a Manchester volunteer for many years and has fond memories of the Coronation.
"June 2 1953 still sticks in my memory as a really lovely day," she said, saying she was "thrilled to bits" to be involved in the royal couple's visit.
The diamond-shaped Jubilee Garden in Albert Square will showcase plants, trees, flowering fruit trees, as well as vegetables and herbs.
At its centre, will be a throne sculpted from a fallen beech tree from Wythenshawe Park.
Following the visit, the garden will be dismantled and replanted in Exchange Square in time for the Olympics.
It will then find a permanent home in the grounds of a Manchester school, with the exception of the throne sculpture, which is set to be auctioned for charity.
The Queen will also visit MediaCity in neighbouring Salford.