Shot PC Ian Terry's widow 'devastated' no criminal charges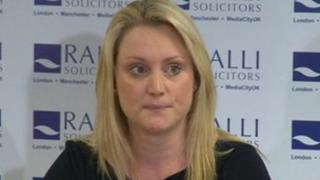 The widow of a Burnley police officer shot dead by a colleague in training is "bitterly disappointed" no-one will face criminal charges over his death.
PC Ian Terry, 32, died after being shot in the chest by a Greater Manchester Police (GMP) colleague, in 2008.
Joanne Terry said she was "devastated" charges are not being brought by the Crown Prosecution Service against the officer who shot him or GMP.
The Health and Safety Executive (HSE) is prosecuting GMP and two officers.
'To serve and protect'
Although the CPS are not bringing criminal charges, the force and two trainers will face charges brought by the HSE over breaching safety law.
Mrs Terry said: "Our family is disappointed and devastated by the view of the CPS that a human being shot and killed unjustifiably can still be acceptable in the eyes of the law.
"Having a jury believe that Ian's death was unlawful; it is confusing and frustrating that the CPS consider there is insufficient evidence for a realistic prospect of a conviction at court."
She said the family was "shocked" at the decision by the CPS because there was CCTV footage of the shooting and several police witnesses.
Mr Terry's widow paid tribute to a "wonderful husband".
She said: "As a family we appreciated Ian's job had risks but never in our worst nightmares would we expect he would be killed by one of his colleagues.
"The real tragedy here is not only have we as a family lost a wonderful husband, father, son, brother but Greater Manchester Police have lost a young dedicated police officer who wanted to serve and protect others."
Mr Terry, who was not wearing body armour, was shot by a fellow officer during a training exercise as the unit practised in a disused factory in Newton Heath.
He was hit from a distance of about a foot by a blank round of a specialist ammunition called round irritant personnel, which is not designed to kill but can be deadly at such close range.
An inquest held at Manchester Coroner's Court in March 2010 found that PC Terry was "unlawfully killed".
The jury ruled there was a catalogue of failures not only by the officer who shot PC Terry but also in the planning, training and safety measures.