Mario Balotelli in Trafford Centre hoodie dispute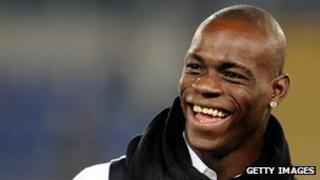 Footballer Mario Balotelli was asked to leave Manchester's Trafford Centre after refusing to pull down the hood of his top, staff have confirmed.
Manchester City's Italian striker was approached by security staff on Monday and told he would be ejected if he did not remove his hood.
Balotelli, 21, who was out shopping with a friend, decided he would prefer to leave rather than remove it.
The shopping centre said it asked all customers to remove hoods.
A Trafford Centre spokesperson said: "At 21:02 GMT a customer was approached by security staff and advised that wearing a hooded top covering the head is against centre policy.
"The customer was Italian and native Italian-speaking staff were dispatched to converse with the customer."
T-shirt slogan
It is understood the striker is a regular visitor to the shopping centre and wanted to keep his hood up to avoid drawing attention from supporters.
Balotelli was said to have been polite and friendly throughout the encounter and shook hands with staff before leaving.
The Trafford Centre said its policy of asking customers to remove hoods enabled security staff to recognise known criminals and track their movements on CCTV.
In October last year firefighters were called to Balotelli's Cheshire home after an explosive set alight his bathroom.
That month Balotelli made reference to various controversial incidents he has been involved in since joining City in August 2010 when he scored the opening goal during a Manchester derby game at Old Trafford.
The striker, who was signed in a reported £24m deal from Inter Milan, lifted his shirt to reveal a T-shirt bearing the slogan "Why always me?".