New Swinton Asda 'will destroy' Unitarian graveyard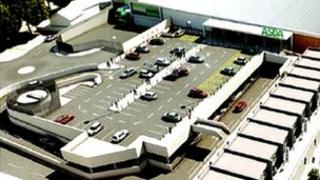 Supermarket giant Asda has been urged to rethink plans for a new store in Greater Manchester to avoid digging up an old burial ground.
Part of the site of the proposed Asda in Swinton would be built over an old graveyard next to the former Swinton Unitarian Church.
Campaigners claim an important part of the town's heritage would be destroyed.
Asda said the bodies would be re-buried at a local cemetery and a memorial plaque put in place.
The burial site, which has more than 300 graves, includes three victims of the 1885 Clifton pit disaster, the mine explosion which claimed 178 lives.
The newly-formed Friends of Swinton Unitarian want Asda to create a memorial garden on the site of the graveyard, which is part of Swinton precinct.
Local history
"We are campaigning to preserve and enhance the land," said group member Michael Moulding.
Mr Moulding rejected comments by Asda which said the unmarked land was only used by people walking their dogs.
"When you tell local people about the land, they are very interested in their history," he said.
An Asda spokesperson said: "We fully appreciate the importance and sensitivity of the site and consider that the re-internment of existing remains in a well-maintained local cemetery, along with proper and overdue recognition on site through a memorial, is considerably more respectful and appropriate than the current situation."