PC Ian Terry death: Greater Manchester Police charged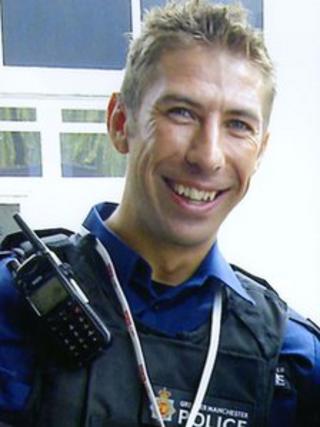 The Health and Safety Executive (HSE) is to charge Greater Manchester Police and two officers over the shooting of a PC in a training exercise.
On Tuesday the Crown Prosecution Service said there was "insufficient evidence" for criminal charges over PC Ian Terry's death.
But the HSE said there was evidence to prosecute the force and two trainers under health and safety laws.
PC Terry, 32, from Burnley, was shot in the chest by a colleague in 2008.
'Public interest'
An HSE statement said: "A Health and Safety Executive (HSE) investigation has concluded that there is sufficient evidence and it is in the public interest to prosecute the force and two of its training staff for alleged criminal offences under the Health and Safety at Work (etc) Act 1974."
The HSE is prosecuting the force under section two of the 1974 Health and Safety at Work Act which relates to employers and is prosecuting the officer in charge of the course and one of its safety officers under section seven of the act which covers employees' responsibilities.
Garry Shewan, Assistant Chief Constable of GMP, said: "Since Ian's death we have made a number of changes to the way in which we train officers to ensure that all firearm training exercises are carried out in the safest possible way by reinforcing procedures and existing policies."
He said eight officers had misconduct matters pending and added: "We cannot make a decision as to when these matters will be dealt with until we have seen the full disclosure files from the HSE for this case."
No body armour
PC Terry was pronounced dead in hospital following the incident at a disused factory in Newton Heath on 9 June 2008, during an exercise involving the force's firearms unit.
The father-of-two was not wearing body armour when he was shot at close range with specialist ammunition called Round Irritant Personnel.
In March 2010, an inquest heard that PC Terry was playing the part of an armed suspect in a car that needed to stopped.
A fellow trainee was given the job of shooting its tyres to immobilise it but he told the inquest he acted instinctively when he saw PC Terry raising a gun and he pulled his own trigger shooting his fellow officer dead.
The inquest ruled he was "unlawfully killed".
Jurors at Manchester Coroner's Court were critical of the firearms unit and its training regime.
Their verdict related to both PC Terry's death and the planning and conduct of the exercise.