No charges over PC Ian Terry's training exercise shooting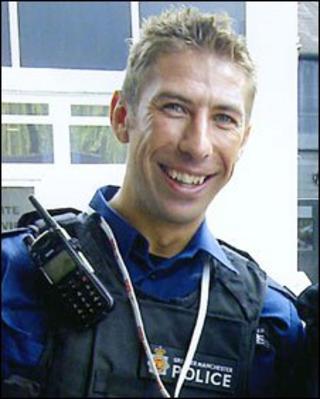 Police officers involved in a training exercise where a PC was shot will not face charges, a case review concluded.
The Crown Prosecution Service (CPS) said there was "insufficient evidence" to bring criminal charges relating to PC Ian Terry's death.
PC Terry, 32, from Burnley, died after being shot in the chest by a Greater Manchester Police colleague, in 2008.
Mark Auty, of the CPS, said there was no "realistic prospect" of proving officers had been "grossly negligent".
"I have reconsidered all the evidence surrounding Mr Terry's death - including evidence which arose at the inquest and in further investigations by the Independent Police Complaints Commission and the Health and Safety Executive," he said.
No body armour
"I have concluded, in accordance with the Code for Crown Prosecutors, that there is still insufficient evidence for the CPS to be able to bring any criminal charges in relation to the death of Mr Terry.
"This decision was taken after a great deal of consideration and follows consultation with expert counsel and senior colleagues."
PC Terry was pronounced dead in hospital following the incident at a disused factory in Newton Heath on 9 June 2008, during an exercise involving GMP's firearms unit.
The father-of-two was not wearing body armour when he was shot at close range with specialist ammunition called Round Irritant Personnel (RIP).
In 2010, a inquest into his death ruled he was "unlawfully killed".
Jurors at Manchester Coroner's Court were critical of the firearms unit and its training regime.
Their verdict related to both PC Terry's death and the planning and conduct of the exercise.