Culcheth police shooting: No weapons found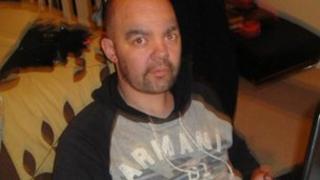 A search of a car in which a man was shot dead by police in Cheshire has not located any weapons, according to the police watchdog.
Two guns were fired in the operation which ended with the death of Anthony Grainger, 36, from Bolton, in Culcheth on Saturday, the Independent Police Complaints Commission (IPCC) said.
The tyres of the car were shot at twice and he was shot once in the chest.
A CS canister was also thrown into the vehicle by an officer.
No weapons were located after an "initial visual search" inside the vehicle he was in, a red Audi, and the immediate vicinity of the car, the IPCC has said.
The IPCC confirmed one round was fired by an officer carrying a Heckler and Koch MP5 carbine which went through the windscreen and struck Mr Grainger while he was sitting in the driver's seat.
The car's tyres were shot twice by an officer carrying a shotgun in order to disable the vehicle.
An IPCC spokesman said: "Due to the presence of CS residue in the car a full forensic examination has not yet been conducted to establish whether there are any weapons in the car.
"This will take place in a controlled environment in the next few days.
"An initial visual search inside the Audi, and a search of the immediate vicinity of the car, has not located any weapons."
IPCC Commissioner Naseem Malik said she had met Mr Grainger's mother and partner to explain how the investigation would progress.
Ms Malik said: "There is a great deal of work still to be done including forensic examinations, ballistic tests and interviews with a number of police officers.
"Investigators have identified some witnesses to events but I would urge anyone who has information about the incident to come forward to assist our investigation."
Earlier on Monday an inquest into Mr Grainger's death was opened and adjourned pending the findings of the IPCC investigation.
Three men have been remanded in custody by Manchester magistrates charged with conspiracy to commit robbery following the shooting.