Anuj Bidve killing: Service in Salford to promote peace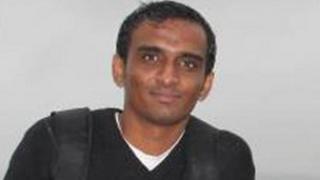 A church service has been held in Salford to promote peace in the area where a student was shot dead.
Anuj Bidve, 23, an engineering student at Lancaster University, was shot in the head as he walked along Ordsall Lane with friends on Boxing Day.
Rev Sandra Kearney said the Celebration of Peace at St Clement's, Ordsall, was about "working together".
In January members of the church organised an outdoor vigil which was attended by more than 400 people.
Ms Kearney said: "Recently Ordsall has been in the news for the wrong reasons.
"We want to use the Celebration of Peace as an opportunity to gather together the people of Ordsall to show the world we are a peaceful community and to explore ways of working together to prevent violence."
The Celebration of Peace started with the church service which included music by local musicians and a talk given by Patsy McKie, founder of Manchester-based Mothers Against Violence.
The service also included a presentation by Salford Forum for Refugees who work with refugees and asylum seekers who live in the Salford area.
A 20-year-old man, Kiaran Stapleton of Salford, has been charged with Mr Bidve's murder.