Road closes for Manchester 'piazza' regeneration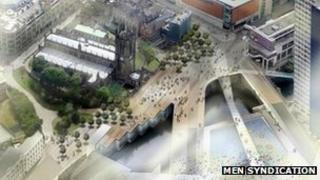 One of Manchester's busiest roads will close to traffic while work begins on a car-free piazza near the cathedral.
The 275m (300 yard) stretch of Victoria Street, at the entrance to Deansgate, will close to motorists on Sunday for a six-month trial period.
Traffic will be diverted down Salford's Chapel Street and Victoria Bridge Street before rejoining Deansgate.
The council said regenerating the area had been an ambition since the area was wrecked by the IRA bomb blast in 1996.
Taxi drivers have criticised the plans, warning the closure will lead to road chaos.
'Minimal impact'
Council leader, Sir Richard Leese, said: "The impact on traffic on this ought to be minimal if there is an impact at all," he said.
"What we will get is something that has been an ambition since 1996.
"This is part of the post-bomb masterplan, one of the last bits to be implemented, which is to bring the area around the cathedral down to the River Irwell, and help make the river part of the city."
Les Reid, from MR Black Cabs, said the closure of the road, from opposite the cathedral to the Harvey Nichols store, would be a problem for his drivers.
"On the face of it, it is only a detour, but this is not here because it will work, they have done this so it won't work, to force people out of the town.
"I think at this economic time it is a very bad thing to do.
"For my members, coming from Victoria Station, coming to Victoria Street, it will be like a car park.
"It will be standing traffic all day long and nobody will be moving anywhere."
He said for passengers taking a cab from Victoria Station to the west of the city, the changes could add £3 to the journey.