Lemn Sissay: University's poetic wall tribute unveiled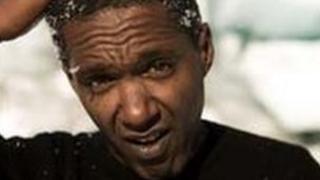 The latest mural poem by renowned poet Lemn Sissay has been revealed in Manchester.
Let There Be Peace, which is painted on a wall at The University of Manchester, was unveiled at 12:30 GMT.
His first wall poem was written on the side of the Hardy's Well pub in the 1990s in Rusholme area of the city.
University Vice Chancellor Prof Dame Nancy Rothwell, said the university hoped the poem would inspire and stimulate staff and students.
Mr Sissay said: "Let There Be Peace stands with my Landmark Poems as testament to the creativity and pride of a world class city with a world class university."
The poem is part of the award-winning Manchester poet's Poems As Landmarks project.
Other work to be found in the city include Flags, laid over a mile on the Northern Quarter's Tib Street, and Rain on Oxford Road, passed by Manchester students every day as they make their way into university.
The latest addition provides the backdrop for the large atrium space in University Place on Oxford Road.
This mural was painted over five days by Gerard Brown, a local sign writer, on to what was previously a blank white wall.
Sissay, who received an MBE in 2009, is the first poet to write for the 2012 Olympics and his poem Spark Catchers will soon be seen by millions, as part of Winning Words, an initiative for poetry in public spaces.