Eccles 'slave case' girl: Life away from tormentors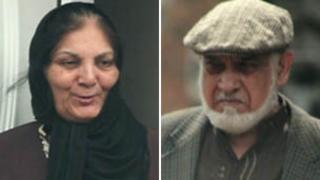 A woman allegedly raped and treated as a slave when she was brought to the UK as a young girl told a jury of her new life away from her alleged tormentors.
The deaf woman, who cannot be named, told a Manchester court she is getting an education now she is free of the couple who brought her from Pakistan.
Ilyas Ashar, 83, and his wife, Tallat Ashar, 66, from Eccles, have denied charges at Minshull Street Crown Court.
Among the charges they face are false imprisonment and human trafficking.
The woman arrived in the UK in 2000, when she was between 10 and 12 years old.
The trial, now in its third week, has heard claims the victim was beaten regularly, repeatedly raped by Mr Ashar and kept a virtual prisoner to work for the family, never went to school and was taught only to sign her name for the purposes of a benefits fraud.
She gave evidence for the first time via a video-link screen to the courtroom, using sign-language to answer questions.
The woman told the jury she had "no friends" for the decade she lived with the Ashar family and was not allowed to go to college.
Peter Cadwallader, prosecuting, asked the woman what she enjoyed now she is not living with the Ashar family.
Her words, given through the sign-language translator, were: "Love going out for walk in the fresh air. Loves going to the fair and enjoy lots of different things.
"Also enjoy going to the college by myself on the bus.
"The third thing I love to do is going out, going around but having nothing to do with men. Sexually having nothing to do with men."
'Love to learn'
The woman said she now attends a group where she can communicate with other people with similar disabilities as herself and attends college.
"I love to learn," she added.
Mr and Mrs Ashar both deny two counts of human trafficking into the UK for exploitation and a single count of false imprisonment.
Mr Ashar also denies 12 counts of rape and Mrs Ashar denies one count of sexual assault and unlawful wounding. The couple deny charges of benefit fraud along with their daughter Faaiza, 44.
The trial continues.