Greater Manchester Police 'needs funding for EDL march'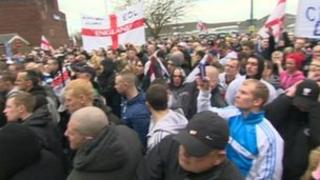 The cost of policing a march by the English Defence League (EDL) in Hyde should be met by extra funding from the government, the chair of Greater Manchester's Police Authority has said.
Paul Murphy said Saturday's event had cost about £180,000 and, as a result, "additional funding" was needed.
About 600 people took part in the march, which saw 11 arrests.
Chief Constable Peter Fahy admitted his force was stretched last week with the march and disturbances in Heywood.
'Right to march'
The EDL protesters were escorted from Hyde railway station to the demonstration site at a car park in the town.
Following the march, police then walked the group back to their coaches and the station. Those arrested were all for minor public order offences.
Mr Murphy said he would consider asking for additional one-off funding, as was the case for the riots in August.
He said: "We've had five of these EDL marches. If the average cost is £200,000 then that's £1m a year.
"The price of democracy in Great Britain should not be borne by the people of Greater Manchester.
"It has to be borne nationally if we're going to protect the rights of people to march."
A Home Office spokesperson said: "Police forces have the opportunity to apply for a special grant if one-off operational issues place additional financial pressures on their resources.
"If approved, the grant criteria covers costs over and above 1% of the total force budget."
'Difficult challenges'
Mr Fahy said the disturbances in Heywood and the policing of Manchester United's match with Ajax at Old Trafford, had given the force along with the EDL march had given the force a "really difficult week".
He added the force would face "some difficult challenges over the coming months" but were "passionate in defending the right of people to demonstrate and protest and the right to free speech".
However, he said officers would be "robust in dealing with those who want to incite disorder or hatred towards particular groups".
"There are outsiders who would like to see groups turn against each other for their own ends," he said.