Hyde EDL protest: Eleven held after peaceful demonstration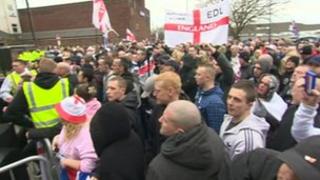 Eleven people were arrested for minor public order offences as a protest by the English Defence League (EDL) passed peacefully in Hyde, Greater Manchester.
About 600 people travelled to the town to take part in the demonstration on Saturday afternoon.
The protest followed an alleged attack by Asian youths on two white teenagers in the town, earlier this month.
There was an increased police presence to manage the demonstration which police said had been peaceful.
The EDL protesters met at Hyde railway station at about 13:00 GMT and were escorted to the demonstration site, a car park just off Market Street, by police.
Once the protest had finished, police then walked the group back to their coaches and the station.
Supt Neil Evans, Operations Commander for the Tameside Division of Greater Manchester Police, said: "I would like to thank both the people of Hyde and the protesters for their conduct, which has resulted in the demonstration passing peacefully and with minimal disruption caused to Hyde itself.
"GMP respects everyone's right to a protest, but at the same time we have to balance this with the concerns of people in our local communities."
He said there had been only "minimal trouble" and for most of Hyde it had been "business as usual".
"Although 11 protesters from the EDL group were arrested for minor public order offences or being drunk and disorderly, the vast majority were well-behaved and compliant with police," Supt Evans added.