Hyde EDL protest: Hundreds gather in town centre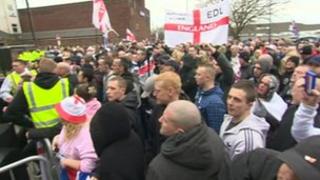 About 600 people gathered in Hyde town centre for a demonstration organised by the English Defence League (EDL), police said.
The group were escorted through the town by officers from the Greater Manchester force, just after 13:00 GMT.
The protest follows an alleged attack by Asian youths on two white teenagers in the town earlier this month.
The EDL said on its website the march was a national protest against extremism.
It stressed that groups with a history of racist ideas would not be welcome at the demonstration.
The protest was over by 15:00 GMT and the group was leaving the scene.
Police are treating the attack on the teenagers as a hate crime because the victims believe it was racially-motivated.
The family of one of the victims had asked the EDL not to hold the protest and said they did not support the activities of the group.
Many of the protesters had travelled to the town by coach and rail.
The group had gathered at the railway station and were escorted to the allocated demonstration site next to the bus station on Clarendon Street.
Jonathan Reynolds, Labour and Co-op MP for Stalybridge and Hyde, said there was "no reason" for the EDL to come to the town.
"I think we made it very clear that they weren't welcome and people didn't want them, some of my constituents have been to see me and said they didn't want them here," he said.
"We prepared in case they did come, and so far the day has been relatively quiet."
He said the actions of the police and community volunteers - who were briefed by the force - had helped make the protest peaceful.
"As well as the large police presence we have had about 60 people on the streets as community mediators in high visibility vests, people from all parts of Hyde.
"That has been really successful. To get so many in such a short number of days is fantastic for us to make sure the town is safe and to get through an event like this."