No charges over seized Manchester United fanzine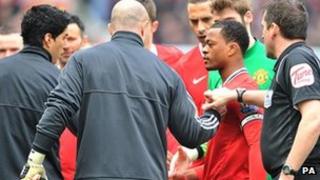 Nobody will be charged over copies of a Manchester United fanzine seized before the match with Liverpool amid fears its cover would stoke a racism row.
The Red Issue fanzine featured a cut-out Ku Klux Klan-style mask with the words "LFC Suarez is innocent".
The magazines, described by police as "potentially offensive", were confiscated outside Old Trafford.
The Crown Prosecution Service (CPS) said that no further action would be taken over the publication.
'Unpleasant and obnoxious'
The magazines were seized before the game on 11 February which was the first time Liverpool's Luis Suarez faced United's Patrice Evra since the racism row.
Nazir Afzal, Chief Crown Prosecutor, CPS North West Area, said he had asked the CPS's Special Crime and Counter Terrorism Division to see if the magazines were guilty of potential incitement to racial hatred.
"I have received advice from a senior lawyer in that division that although the fanzine distributed may have been offensive to some people, there was insufficient evidence to prove that the content was intended to stir up racial hatred, or that it was or likely to do so," he said.
"It is not a crime to possess material that is threatening, abusive or insulting, or hold views which others may find unpleasant and obnoxious.
"It is a crime to distribute this sort of material to the public, if it is intended to stir up racial hatred, or in circumstances where it is likely to have that effect."
Neither will the CPS be pressing any charges in relation to slogans on T-shirts seized at Old Trafford on the same day.
John Paul O'Neil, one of the contributors to Red Issue, said: "We never expected to be charged because the CPS have more sense than the police."
Mr O'Neil said the magazine's producers were taking legal advice over whether to sue Greater Manchester Police in the civil courts for loss of revenue for the publication.
Suarez was banned for eight games and fined £40,000 for racially abusing Evra in a league match at Anfield in November.
The Liverpool player refused to shake Evra's hand before the match, which United won 2-1.
Suarez later apologised for snubbing Evra.