Rochdale takeaway attacked as youths clash with police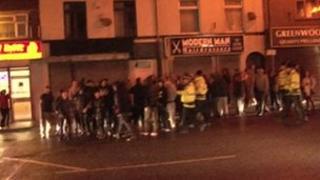 Gangs of youths have clashed with police after targeting a takeaway business in Greater Manchester.
Police were pelted with bricks and other missiles in Heywood, Rochdale, on Thursday evening as a takeaway was attacked and four vehicles damaged.
Eyewitnesses said about 200 youths were in Bridge Street and Market Street, prompting nearby businesses to shut.
A Greater Manchester Police officer suffered bruising to his arms and legs. A man and a teenager were arrested.
The man, aged 35, was held on suspicion of a public order offence and police assault and a 14-year-old boy was arrested for causing danger to a public highway.
A takeaway business had its windows smashed while three police cars and a fourth car were damaged.
'Difficult time'
Police, who sent a number of vans and dog units to the scene, said they had since dispersed the groups and had stepped up patrols in the area.
Assistant Chief Constable Terry Sweeney said police were aware of "tensions in the borough" and that local people would be concerned following the trouble.
He said: "We will maintain and increase police presence in the coming weeks to keep up our reassurance. We ask that the community acts responsibly during this difficult time."
Earlier, he said a group of youths had "attacked a local business and clashed with police officers".
"A number of local businesses have closed of their own volition and we will continue to work closely with them," he added.
'A lot of outrage'
Zeeshan Khokhar, 23, the owner of Bits n Pizza, a takeaway on Market Street, said he had been verbally abused, but his shop was not damaged.
Mr Khokhar said "white friends" came to his shop to protect him as trouble began in the afternoon.
He said: "It started about 4pm, kids banging on windows. They were shouting: 'Why are you still open?'
"The police came and told us to shut up shop. We are just doing business. It's not good, it hurts and we are very worried about what's going to happen."
Neighbourhood police Insp Steve Clark said: "There were a number of young children out yesterday evening and I would like to ask that their parents are conscious of this in the coming days and weeks."
After officers dispersed the group from Market Street some youths shouted "EDL" - English Defence League - as they left, according to the Press Association.
The EDL said on its official Twitter account that it had not been involved in the events in Heywood but praised the youths.
Police said they were monitoring social media sites.