Rochdale's £11.5m transport interchange gets go ahead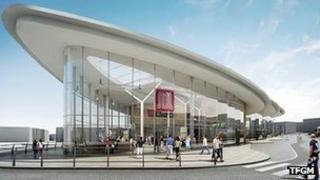 Rochdale will get a new £11.5m transport interchange after a scheme to build it was given final approval by the Department for Transport.
Local Transport Minister Norman Baker said the government had given about £7m to the scheme to "support growth and cut carbon".
He said it would improve the "dark and dingy atmosphere" of the existing bus station.
The interchange will be built alongside new council offices on Smith Street.
The interchange was one of 20 schemes to be given public money which was announced in the Chancellor of the Exchequer's Autumn Statement in November 2011.
It is the first to reach final approval, meaning that all statutory powers and permissions have been sought and contracts approved.
Construction will now begin on the building, which is scheduled to open in summer 2013.
Mr Baker said that, having visited the existing bus station, "it was clear to me that action had to be taken".
"The new station will be a significant improvement on the current facilities - the dark and dingy atmosphere is not the welcome you want when you arrive into town," he said.
"I am in no doubt that this new station will encourage more people to travel by bus in and around Rochdale."
He added the new interchange would also allow redevelopment on the existing bus station's site, which "will bring some 1,500 new jobs into the town".
The chair of the Transport for Greater Manchester Committee, councillor Andrew Fender, said it would be a "distinctive new landmark".
"The interchange will give Rochdale the brighter, safer and more modern transport facilities the town deserves - and it will be greener too, as the innovative hydropower scheme we've installed nearby provides it with an environmentally-friendly energy source, reducing its carbon footprint," he said.
The Department for Transport will be providing £6.972m towards the scheme, with the remainder of the funding coming from Rochdale Council and Transport for Greater Manchester.