Salford City Council approves £24m worth of budget cuts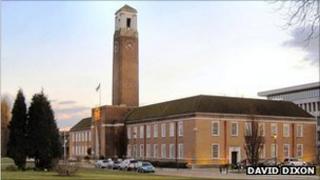 Salford City Council has approved £24m worth of cuts to the city's 2012/13 budget.
The cuts, agreed at a meeting at Salford Town Hall, will mean the loss of 360 jobs.
A council spokesman said changes to the management structure would go some way to protecting frontline services.
Councillor Bill Hinds, lead member for finance, said it was inevitable that people would suffer as a result of the cuts.
The measures come on top of £40m worth of savings made in the 2011/12 budget, which resulted in about 600 job losses.
Mr Hinds said that "maintaining our service is becoming increasingly difficult as the cuts keep on coming".
He said the council would continue to support 6,000 residents "with moderate, as well as substantial and critical needs" and provide free childcare for 300 of the city's "most vulnerable two-year-old children".
However, he said that "inevitably, people will suffer as a result of these cuts" and that the budget would mean "reductions in the funding support we can make available to voluntary groups, as well bringing the total number of jobs lost at the council to more than 900".
"This is not a budget I am proud to lead but this is the budget we have had to deliver in the face of unprecedented cuts," he said.
The spokesman said a one-off grant from the government had allowed the freeze in council tax for a year.
Wendy Allison, the North West regional organiser for Unison, said the union was "opposed to the savage cuts which are being imposed across public services by the coalition government".
"Thanks in part to Unison's efforts, there were no compulsory redundancies last year and we are aware that the council aims to repeat that this year.
"However this still means that, over the two years, around 10% of the council's workforce will have disappeared."
She said that regardless of council attempts to minimise impact, "with such a drastic reduction in funding, it is inevitable that, in an area like Salford, frontline services will be hit".