Greater Manchester Fire Authority faces 'difficult road'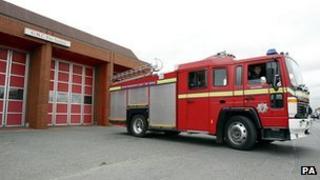 Fire leaders in Greater Manchester have warned that further cuts to funding could lead to the closure of fire stations and compulsory redundancies.
Greater Manchester Fire and Rescue Authority agreed savings of £6.5m at a meeting on Thursday, but its chair said £10m more may need to be found.
Councillor David Acton said savings so far had been achieved without "closing stations and compulsory redundancies".
However, he said future cuts could lead to "a difficult road ahead".
The authority has lost 300 uniformed posts and 100 support roles since implementing budget cuts in 2011.
It plans to make further savings through a change in its operational strategy and the way that the front-line emergency service is delivered, including implementing a new roster system at fire stations.
'Everything we can'
A spokesman said the authority had passed a resolution at the budget meeting to "express concern about the current situation and appeal for a fairer government grant settlement in future".
He said the service had used a government grant offered to authorities not raising the amount claimed from council tax to "lighten the burden faced by the public during the current time of austerity".
However, Mr Acton said that without changes to the way the amount of funding to fire authorities is calculated, making future savings without compulsory job losses would be difficult.
"We have been doing everything we can to lobby for the change in the current national grant formula and we will continue to do so," he said.
"We want the formula to take into account the different challenges faced by metropolitan fire authorities like Greater Manchester compared to the more rural areas.
"So far we have managed to achieve [savings] without closing fire stations and without the need for compulsory redundancies, but if the national grant formula doesn't alter, then there will be a difficult road ahead.
"We are not asking for anything other than a fairer settlement."