Wigan Athletic fans 'not welcome' after Bolton flare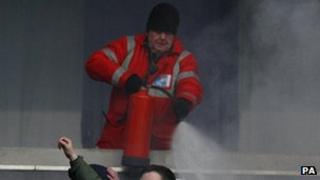 Several Wigan Athletic supporters have been told they are "no longer welcome" at the club after a flare was let off during a derby match with Bolton.
A 16-year-old was charged with possession of a flare after the device was ignited during Saturday's game at Bolton's Reebok stadium.
Sixteen others were also arrested or cautioned for anti-social behaviour.
The club has written to all 17 to inform them they will not be allowed at future matches.
Wigan chief executive Jonathan Jackson said the club was working with Greater Manchester Police to secure football banning orders against the majority of those involved with the incidents.
He said the club was "extremely disappointed by the behaviour of a small minority of spectators who tarnished what was a fantastic day".
He said Wigan were keen to maintain their record of good behaviour as "prior to Saturday's game, only three Wigan fans had been arrested this season".
"We wish to protect the image of Wigan Athletic as a family club and do not welcome those who seek to make trouble and endanger the safety of our supporters," he added.
Sgt John Clee said disorder at football matches was "simply not acceptable and we will look to take action against anyone that flouts this rule".