Bahman Faraji 'owed murder accused £2,000'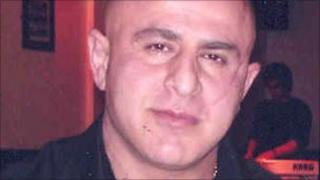 A man who was shot dead outside a Liverpool pub owed £2,000 to the man accused of ordering the attack, Liverpool Crown Court has heard.
Bahman Faraji, 44, was shot "on the instructions" of former friend Jason Gabbana, 29, the court was told.
He was shot at close range after he was lured to the Belgrave public house in Aigburth in February 2011, the prosecution said.
Mr Gabbana, of Score Lane, Liverpool, denies murder.
Opening the case for the prosecution, Brian Cummings QC told the jury the shooting was planned and carried out by men, who cannot be named for legal reasons, acting on the orders of Gabbana.
Mr Cummings said: "Mr Faraji was shot on the instructions of Jason Gabbana.
"The allegation is not that Mr Gabbana was the gunman or was present at the shooting, but that he got others to carry out the shooting for him."
Mr Faraji, known as Batman or Ben, arrived at the Belgrave pub in the company of two other men shortly after 18:30 GMT on 26 February last year after receiving a number of phone calls.
They spent about 10 minutes inside the public house before the three of them went outside and stood on the pavement.
A short while later the gunman approached and said to Mr Faraji: "Are you Ben?," Mr Cummings said.
"The man then raised a double-barrelled shotgun and fired it directly into Mr Faraji's face.
"There was a cloud of smoke and Mr Faraji fell to the ground."
Police and paramedics were called to the scene but nothing could be done to save him, Mr Cummings said.
Mr Faraji, who moved to the UK from Iran about 10 years ago, and Mr Gabbana, whose father is Iranian, had been friends but the victim owed the defendant £2,000, the court was told.
Mr Cummings said: "The prosecution do not suggest the shooting was all over a debt of £2,000."
On the day after the murder, a withdrawal of £9,500 was made from Mr Gabbana's current account but he denied he had paid anyone to murder Mr Faraji, the barrister said.
But forensic analysis of mobile phone calls by murder squad detectives linked Gabbana to the plot, he said.
The trial continues.