Manchester council £55m cut is 'best case scenario'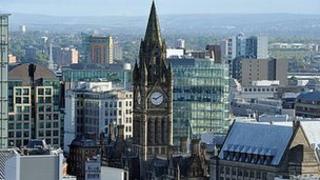 Cutting £55m from the budget over the next two years is a "best case scenario", a Manchester City Council report has stated.
The council's budget report has proposed cutting a minimum of £25m in 2013-14, rising to £55m in 2014-15.
The city has already seen its budget cut by almost £170m since austerity measures were brought in last year.
The report will be considered at a meeting of the council's executive on Wednesday.
A spokesman said the report had been produced "against a backdrop of considerable uncertainty because no detailed financial information has been provided by the government beyond the last financial settlement, which set out what resources would be available to us for 2011-12 and 2012-13".
"Broad indications given by the government about future cuts to their funding for public services mean that, although we don't know the details, we know that the level of resources available to the council will continue to decline significantly," he said.
"Based on the experience of the last government financial settlement, which saw a shift of funding away from the more deprived local authorities including Manchester, there is a real risk the council's funding will reduce by more than the overall national percentage reduction outlined by the government.
"As a responsible council we have to plan ahead and this involves looking at a range of possible financial scenarios."
'Smaller, leaner workforce'
The report added that, if the funding factors changed, the council may cut "between £55m and £80m" in the second year.
These factors include how much funding the council receives from central government and reform of the funding arrangements for schools from 2013-14.
It added that the council's aim was to achieve the savings with "a commitment to job security" and without the need for compulsory redundancies.
"The council's move to a smaller, leaner workforce will be achieved through developing skills of existing staff, greater movement and flexibility of people around the organisation, restricting external recruitment and reductions in overall staff numbers through natural turnover", it said.
In 2011, the council announced leisure centres, libraries and public toilets would close and 2,000 jobs would be cut in order to make nearly £110m of savings.
It added that the saving would need to rise to £170m in 2012.