Manchester United fanzine seized before Liverpool game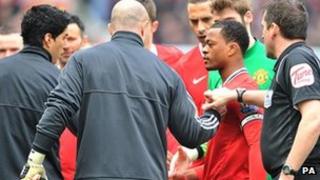 Police seized copies of a Manchester United fanzine before the match with Liverpool amid fears its cover would stoke the racism row between the clubs.
The Red Issue fanzine featured a cut-out Ku Klux Klan-style mask with the words "LFC Suarez is innocent".
The magazines, described by police as "potentially offensive", were confiscated outside Old Trafford.
Liverpool's Luis Suarez was facing United's Patrice Evra for the first time since the racism row.
Ch Supt Mark Roberts said anyone found selling the fanzine or displaying the image faces prosecution.
He said: "Shortly before kick-off we were made aware that a Manchester United supporters' fanzine being sold outside Old Trafford featured a potentially offensive image.
"Officers are now seizing the fanzines and in consultation with the Crown Prosecution Service we will take appropriate action against anyone either found selling this particular fanzine or provocatively displaying the image in public."
Police have also arrested a man on suspicion of a racially aggravated offence over a T-Shirt which has been confiscated.
Mr Roberts added: "I have taken this course of action as both items are potentially offensive and we cannot be in a situation where hundreds or thousands of people were displaying offensive images at a football match.
Tunnel clash
"The consequences of taking no action could have resulted in public order incidents inside or outside the ground."
Suarez was banned for eight games and fined £40,000 for racially abusing Evra in a league match at Anfield in November.
The Liverpool player refused to shake Evra's hand before the match, which United won 2-1, and there were also reports players from both teams clashed in the tunnel at half time.
One fan was arrested for making an allegedly racist gesture at the teams' FA Cup Match at Anfield last month.