Manchester barrister David Friesner jailed for theft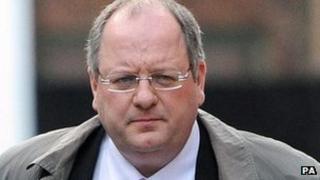 A Manchester barrister who stole more than £70,000 from his chambers has been jailed for three years.
David Friesner, 46, admitted taking £72,500 from 9 St John Street Chambers in 2008, after his sideline property business fell into "financial carnage".
Friesner's property business had about £4m in mortgages and up to £1m in unsecured loans
Mr Justice Singh told the criminal barrister he had "brought dishonour upon an honourable profession".
The judge said: "You, perhaps more than anyone else, ought to have known what you were doing was both dishonest and unlawful."
Friesner, of Bury New Road, Prestwich, ran into financial problems in his property business during the credit crunch.
'Serious criminal offence'
The court was told he became increasingly desperate, taking out bridging loans, some of which charged interest of 2% a week.
At this point he convinced the chambers' finance director to forward him a series of 12 payments, telling her they were loans, the judge heard.
Friesner, who was deputy head of 9 St John Street, had no authority to demand the cash and, the court heard, did not have any prospect of paying it back.
Last month the Bar Standards Board said it would be "revisiting its timelines for urgent suspensions" after it emerged Friesner had been in court representing a client after his guilty plea to the theft charges.
The board said that Friesner's client and solicitor had been "made aware of the barrister's situation" when he represented them.
Malcolm Taylor, special casework lawyer for the Crown Prosecution service said: "It is a matter of considerable regret that a man of such professional standing should have chosen to commit the serious criminal offence for which he has been sentenced today.
"His professional life is now ruined as a result of his own actions and this case sends out a very clear message that no one is above the law."