Man sells plots to thwart Manchester City expansion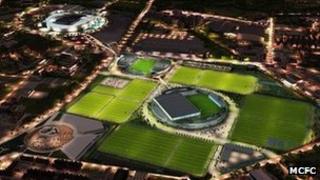 A landowner is selling off small plots opposite Manchester City's ground to protest against the club's expansion.
Shaun O'Brien of OB Truck Services, who is a Manchester United fan, has divided his land to disrupt any enforcement of a proposed Compulsory Purchase Order.
He said he had taken the step after the club refused to "negotiate reasonably".
A Manchester City Council spokesman said Mr O'Brien's valuation made it "equivalent to the most expensive plots in the most exclusive areas of London".
Manchester City declined to comment.
In September 2011, the club revealed plans to build a large footballing academy on land adjacent to its Etihad Stadium, which would house a 7,000-seat youth stadium and 17 pitches.
The club, in conjunction with Manchester City Council, has entered an application for a Compulsory Purchase Order (CPO) on the land that it has not been able to purchase freely.
Mr O'Brien, who said he had made objections against the order through official channels, is trying to sell off 5,000 1 sq ft (0.09 sq m) plots - at a price of £250 a plot - via a website to slow the process.
The businessman said that while he was a fan of the club's local rivals, that was not the reason he was selling the land.
"People believe that because I am a United fan, I am refusing to sell [but] that has never been the case," he said.
"I am a Mancunian and fully support all that is being done in this area; what I am against is the methods used to carry out the plans.
"This land will be owned by them sooner or later - I accept that - but as I have been here for 15 years, putting my blood, sweat and tears into it, should I just hand it over and let them take advantage of the recession and depressed property values?"
Mr O'Brien said that since being issued with the CPO on Christmas Eve, he had received "hate mail, threats and abusive phone calls" from anonymous sources.
"I was taught that if somebody wants something of yours and will not negotiate reasonably, and brings a big stick with them, you don't roll over," he said.
The council spokesman said "anyone buying this land, even a small plot, should take independent legal advice and inspect the land before buying".
He said the CPO "would not have been necessary if Mr O'Brien had been prepared to sell it at a realistic price and accept the football club's offer of help to relocate his business".
"The valuation he's placing on this land is far in excess of anything in Manchester and would make it equivalent to the most expensive plots in the most exclusive areas of London," he said.
He added that the scheme would "not significantly impact on this ambitious regeneration scheme and ultimately the government will decide whether to grant the order based on the public interest".