Girl, 10, kept as 'virtual slave' in Eccles cellar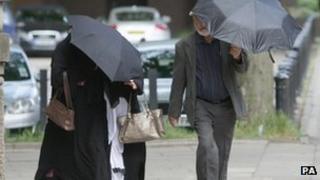 A 10-year-old deaf girl was trafficked into the UK and kept in a cellar as a virtual slave for almost a decade, a court in Manchester has heard.
The orphaned youngster from Pakistan was forced to work for no pay and was sexually assaulted, a trial at Minshull Street Crown Court was told.
She was locked in a cellar each night.
Ilyas Ashar, 83, and his wife, Tallat Ashar, 66, deny charges of false imprisonment, human trafficking, sexual offences, violence and benefit fraud.
Work for hours
The girl, now aged between 19 and 21, would sleep on a concrete floor in the cellar of the couple's house in Cromwell Road, Eccles, Greater Manchester, after she was brought to Britain in June 2000, prosecutor Peter Cadwallader told the jury.
She was never paid and only given food and lodging, Mr Cadwallader told the jury.
The girl was made to cook, clean, do washing and ironing and clean the houses and cars of family and friends of the Ashar's, the court heard.
She would be kept in the cellar to work for hours packing football shirts and clothes and mobile phone covers, the jury was told.
The "extremely vulnerable" girl was "the ideal target" for exploitation, Mr Cadwallader said.
'Locked and bolted'
He told the court: "The Crown's case is she was physically abused. She was sexually abused, which included being raped by Ilyas Ashar.
"She was exploited economically in that benefits, state benefits in this country, were obtained in her name, the money being kept by the Ashars.
"At night the door at the top of the stairs down to the cellar was locked and bolted so she could not get out during the night.
"There were no washing or toilet facilities in the cellar so that if she needed to use the bathroom during the night she had to bang on the cellar door in the hope that she was heard and the door opened."
The girl could not read or write, had no family or friends in the UK, and had never been to school in Pakistan or Britain, the jury was told.
Ilyas and Tallat Ashar both deny two counts of human trafficking into the UK for exploitation and a single count of false imprisonment.
Ilyas also denies 12 counts of rape, Tallat denies one count of sexual assault and unlawful wounding, and the pair along with their daughter Faaiza, 44, deny charges of benefit fraud.
The case continues.