Dentist Omer Butt wins payout after filming arrest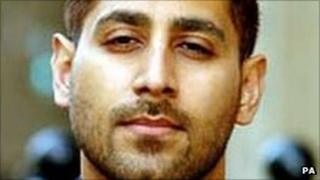 A dentist from Greater Manchester has been awarded compensation after filming his arrest on a mobile phone.
Dr Omer Butt was arrested five years ago following a traffic dispute, during which it was alleged he had made racist remarks towards police.
Dr Butt captured footage of what he said was a wrongful arrest, which he says shows he was assaulted by police.
Greater Manchester Police said it had settled out of court but made no admission of liability.
Dr Butt's case had been due to heard at Manchester Crown Court this week.
He said he was contacted on Wednesday to be told no further action would be taken, and he would receive a payout, the amount of which has not been disclosed.
'Complete mess'
He told BBC Radio Manchester: "I had no alternative except to start taking footage to show what the police officers were doing.
"I believed nobody would believe what was going on, unless I actually filmed it. Thank God I did.
"Without that footage, I may have been convicted. I certainly would have lost my career and my life would have been in a complete mess."
Dr Butt said that during his arrest, his foot was stamped on and a hands-free earpiece was pulled from his head.
He said his footage of this would have proved an "embarrassment" for police, and believed their payout was an admission of wrongdoing.
He added: "Why would they pay if they did nothing wrong?"
In 2007, Dr Butt was found guilty of serious professional misconduct after telling a patient she had to wear a headscarf to receive treatment.
He was cleared in 2009 over an alleged assault on a police officer during a parking dispute.