Hyde teenager says unprovoked attack was 'racial'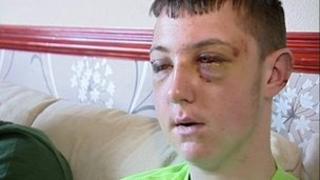 A teenager who was badly injured in an "unprovoked attack" has said he believes it had a "racial" motive.
Daniel Stringer-Prince, 17, was assaulted by a gang of young Asian men on Market Street, Hyde, on Saturday.
He was kicked and punched by the youths, leaving him with a broken eye socket and a fractured skull.
A 21-year-old man has been arrested on suspicion of assault and a police spokesman confirmed the incident was being treated as a hate crime.
However, the spokesman said no racist comments had been directed at the victim.
'Not moving'
Police said the unprovoked attack happened after the gang goaded Mr Stringer-Prince and his friend Kavan Brown as they passed a takeaway.
One of the attackers produced a knife and made a threatening gesture to the teenagers, who did not respond.
The gang then came out of the takeaway and chased the pair, who tried to run away.
Mr Stringer-Prince fell and was attacked while on the ground. Mr Brown was also punched in the face.
The injured teenager said he believed the attack was "racial".
He added: "But they did take my wallet as well, so there could be a bit of robbery as well."
Mr Brown said that after the attack, he thought his friend "was dead because he wasn't moving".
"It was horrible because I couldn't do anything to help him," he said.
"They'd surrounded me as well so I couldn't move. There was a thought that he wasn't going to be here with me."
Det Insp Dave Moores said the attack was "unusual in Hyde, but that does not lessen the impact".
He said the area around the attack had been busy and anyone who witnessed it should come forward with information.
"A large group of up to eight offenders ran after the victims and anyone seeing it would have been under no illusions of what they were witnessing," he said.