Manchester organ donor campaign targets black and Asian groups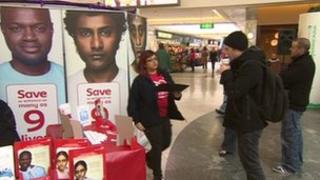 Black and Asian communities in Greater Manchester are being urged to sign up for the organ register to combat a shortage of donors.
About 26% of people in the area needing transplants are black or Asian.
Only 2% of people from the two communities are on the national Organ Donation Register.
Jane Monks, an organ donation nurse, said a transplant is "much more likely to be successful" between donors and recipients of the same ethnic origin.
She said: "It is vital that more black and Asian people join the NHS Organ Donor Register.
"The message is quite simple, more black and Asian patients will have the opportunity to receive a life-saving transplant if more people from those communities join the register."
Shahnaz Ahmed, 50, of Oldham, donated her left kidney to her husband Alias, who had lived with kidney failure for over five years.
She said: "It was very hard to see my husband's health deteriorating while he was waiting for a new kidney and it got to the point where I wanted to step in and see if I could donate one of mine."