Stepping Hill nurse Rebecca Leighton loses sack appeal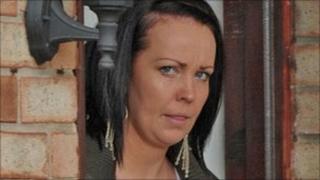 A nurse arrested and later freed over the poisoning deaths of patients at Stepping Hill Hospital has lost an appeal against her sacking.
Rebecca Leighton, 28, from Stockport, Cheshire, spent six weeks in jail after being held by police.
She was cleared of any link to contaminated saline at the hospital last September but was then sacked for stealing drugs.
The Stockport NHS Foundation Trust dismissed her appeal on Thursday.
Miss Leighton attended the hearing in person.
She was initially detained in July last year on three counts of causing criminal damage intending to endanger life and three counts of criminal damage being reckless as to whether life would be endangered, as well as stealing medicine.
Although the criminal charges were dropped, the trust sacked her on 2 December following an internal disciplinary hearing after she admitted the theft of drugs from the hospital.
'Confidentiality issues'
If Ms Leighton had won her appeal she could have returned to work on the wards at the hospital.
The Trust said it could not comment because of "confidentiality issues".
There was no response from Miss Leighton's lawyers.
A nurse who worked on the same wards, Victorino Chua, 46, is on police bail until April, following his arrest last month on suspicion of tampering with medical records and was further arrested on suspicion of three counts of murder and 18 counts of causing grievous bodily harm.
Six people are believed to have died after being deliberately poisoned with insulin.