Partington gas towers: Locals say farewell to landmarks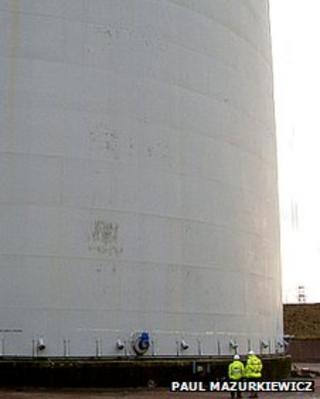 People who live near four National Grid gas towers are preparing for the local landmarks being demolished.
The gas towers, which were built in the Greater Manchester suburb of Partington in the 1970s, are due to be dismantled over the next few months.
"It's very much the end of an era," said local councillor John Smith.
The towers are part of the Heath Farm Lane liquefied natural gas storage facility, on a site which has been a gasworks for more than a century.
"When the place first opened many, many years ago Partington was a village and the gasworks was the employer - it played an absolute pivotal role in the village," Mr Smith said.
"It's a sad day, it really is."
The councillor said the gas towers, which were built during the switch to North Sea Gas, have never been seen as an eyesore as they have become part of the fabric of local life.
"The feelings here are very much sadness and regret," he said.
Resident Paul Mazurkiewicz, whose parents both worked at the gasworks and fell in love there, said the towers have happy memories for Partington residents.
"There were a lot of local people who worked at the gasworks and ended up married," he said.
"As children we used to go there for sports days."
Mr Mazurkiewicz was one a group of local residents who made a farewell tour of the towers.
But he added: "I'm hoping to go up the tanks with a couple of other people to take some decent aerial views of the neighbourhood."
A spokesman for National Grid said work was due to start on dismantling the towers in the next few weeks and would take several months to complete.