Bury equal pay case: Council settles with dinner ladies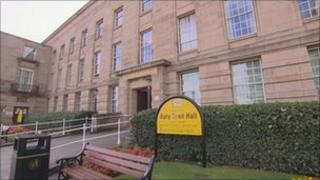 Nearly 1,000 female workers, including dinner ladies, cleaners and carers, are to receive five years' back pay after an equality dispute with Bury Council.
The council and trade union Unison reached an agreement ahead of a Court of Appeal hearing next month.
Bury was the first council targeted by Unison in 2007 in a legal fight for the women to get the same bonuses as men in similar low paid jobs.
Councillors were told of the agreement at a full council meeting.
'A great day'
The agreement concerns women in mainly lower paid work, including carers, catering assistants, cooks, cleaners, domestic assistants, school crossing patrol attendants and home carers, who were paid less than male workers doing comparable jobs.
Bury Council originally faced about 1,400 claims, but settled 675 of them. Unison represented about 900 women, some of whom worked multiple jobs and had therefore lodged multiple claims.
It was due to appeal against an Employment Appeal Tribunal ruling in favour of the women least year.
Unison regional manager Steve Stott said: "This is a great day for low paid women carers, cleaners, caterers and many others working for Bury Council. They have been waiting long enough for pay justice."
He added: "For nearly five years the council has been wasting precious public money trying to defend the indefensible."
A Bury Council spokesperson confirmed the deal had been agreed.