Greater Manchester has highest anti-Semitic crime rate in UK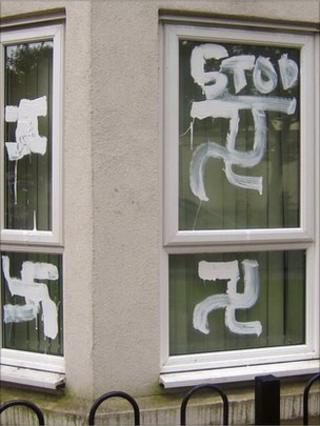 More anti-Semitic crime took place in Greater Manchester than London in 2011, despite seven times more Jews living in the capital, says a Jewish charity.
Nearly half of the 586 anti-Semitic crimes reported in the UK were in Greater Manchester, the Community Security Trust (CST) said.
The overall UK figure was the fourth highest since records began in 1984.
Greater Manchester Police said the increase reflected a greater reporting of incidents.
There were 244 reported anti-Semitic crimes in Greater Manchester - including street attacks, threats, vandalism and desecration of Jewish property - with 201 in London.
London's Jewish population stands at 149,800 compared with Greater Manchester's 21,700, the researchers said.
One incident of "extreme violence" took place when a Jewish family were filling up their car at a petrol station.
"As one of the family members crossed the forecourt in order to make payment, a car containing two white women reversed sharply into her, knocking her to the ground," the CST report said.
"The occupants then got out of their car, shouted 'Dirty Jew' and spat at the injured woman lying on the ground, before getting back into the car and driving away."
'Serious problem'
It added that the rise "continues the pattern whereby a higher proportion of the anti-Semitic incidents reported to CST occur in Greater Manchester than should be the case, given the relative sizes of the Jewish communities in Manchester and in London".
Among the incidents across the UK in 2011 were 92 assaults, 63 incidents of vandalism, 394 reports of abuse and 29 direct threats.
Mark Gardner, of CST, said: "Anti-Semitism is not the most important feature in British Jewish life, but it remains a serious problem in some parts of society, and retains the potential to worsen significantly in reaction to external events."
The rise in Greater Manchester was due to "major efforts" to ensure all incidents were recorded, police said.
Ch Supt Jon Rush, divisional commander for Bury, said: "What we must acknowledge is that the number of anti-Semitic assaults is far too high.
"People in our Jewish communities should be able to safely and freely go about their business without fear of being attacked, so this is the area we accept we need to tackle.
"We do not want people to suffer in silence and think they should not speak out when they are subjected to any form of abuse - we want them to tell us so we can bring the offenders to justice."