Disability charity bus stolen in Manchester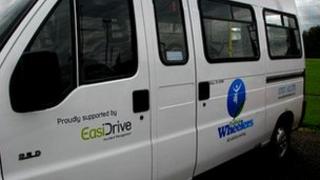 A Greater Manchester charity that transports people with disabilities has been left "sickened" and "let down" after thieves stole its minibus.
The white 10-seater bus, owned by Trafford Wheelers, was taken from outside a house in Derbyshire Lane, Stretford, between 02:00 and 07:00 GMT.
Police said it has logos on it and is easily identifiable.
Charity manager Helen Hines said: "I am just so sickened someone would take it. It is obviously for disabled people."
The Citroen minibus, which has rear wheelchair access, was bought by the charity using grants and fundraising.
'Let people down'
"We call it a minibus, but it is basically an ambulance. We used it to transport people who cannot get around by themselves," Miss Hines continued.
"We have already had to let people down today, who have now had to stay at home. Their families have had to arrange care or stay off work to look after them."
Trafford Wheelers is a cycling-based charity that transports people with disabilities to various parks, trails and venues so they can ride.
Police have asked anyone with information to contact them.