Rochdale sham marriage vicar John Magumba jailed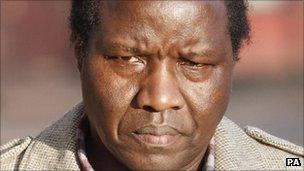 A Church of England vicar from Rochdale who carried out sham marriages to allow illegal immigrants to stay in the UK has been jailed.
The Reverend Canon Dr John Magumba, 58, performed 31 bogus wedding ceremonies at two churches in the town.
Magumba, originally from Uganda, pleaded guilty in December to conspiring to facilitate a breach of UK immigration law.
He was jailed for two-and-a-half-years at Bolton Crown Court.
The father-of-six had also pleaded guilty to theft of more than £8,000 from his church councils by not declaring income from weddings and funerals.
The court heard that Magumba, originally from Uganda, "asked no questions" when marrying a stream of Nigerian men and eastern European women who went to his Rochdale parish.
He took on so many weddings involving foreign nationals that his diocese made him head of a party on how to spot sham marriages.
Fran Gough, from the Crown Prosecution Service, said: "He conducted these wedding ceremonies knowing full well that they were [shams], purely to assist non-EU citizens in their bid to gain UK residency.
"His dishonesty in effectively plundering church funds is also difficult to believe in someone whom others looked to for moral guidance."
Magumba arrived in the UK in 2004 on an ecclesiastical visa, bringing his family with him from Uganda.
Investigators said that money was "always an issue" for him, that he had requested crisis loans from the Church and even asked parishioners for money to "clothe his children".
He was arrested last March as part of an investigation by the UK Border Agency.
Sham marriages usually involve a non-European marrying an EU citizen to secure long-term residency, the right to work and the right to claim benefits in the UK.
Related Internet Links
The BBC is not responsible for the content of external sites.