Salford referendum: Could mayor poll halt voter apathy?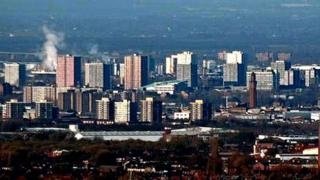 In 1994 countless people queued overnight to cast their votes in Soweto as part of South Africa's first post-Apartheid election.
Ten thousand miles north at a polling station in Salford's Irwell Riverside ward on the same day, council staff were lucky to see a handful of people each hour in their local council elections.
The ward records consistently low voter turnouts with polling barely rising above 20% - the highest turnout in Salford is just over 30%.
It is this kind of voter apathy that the movers of Thursday's elected mayor referendum for Salford hope to shift.
Stephen Morris of the English Democrat Party, which gathered more than 10,000 Salford signatures to meet the 5% referendum trigger, argued: "Too many times we've been hearing how do we get people engaged? How do we get the young engaged?
"In Salford with an elected mayor they will be able to choose. Under the current system people do not have that and this is what we are trying to change."
But John Merry, leader of the Labour-led council, countered that a mayor would be less democratic.
"An elected mayor would be elected every four years, whereas as things stand at the moment people have a vote every year for the shape of the council," he said.
"I think it is a denial of democracy and concentrating all that power into a US-style city boss will lead to the danger of that person only being accountable every four years."
Liverpool University professor of politics Jon Tonge, formerly of Salford University, doubted whether the referendum, which is costing the council approximately £200,000, will reverse either the city's decline or voter apathy.
"I do not think there will be a large turnout.
"If you look at when Bury to the north had a referendum, 18% of the electors voted - and that is an area where there is a high turnout at Westminster elections," he said.
"Even if you had a personality candidate like one of The Happy Mondays it might have short term publicity value but that would be all - Shaun Ryder isn't going to turn the city around," he added.
In May Manchester will be one of 12 English cities deciding whether having their own mayor - the result of the Coalition government's Localism Bill 2011.
However Salford's vote was sparked by rules introduced by the last Labour government which allowed a referendum if a petition gathering exercise was successful.
Prof Tonge believes even getting the petition together was an achievement.
He suspects the reason was partly the envious glances at Manchester's revival.
Ever since the July referendum petition council officers have been busy drawing up an alternative constitution to be implemented by the new mayor.
Unlike last year's parliamentary voting system referendum, which had a voter turnout threshold, only a simple majority is required for Salford's referendum.
Like the voters in South Africa in 1994 the people of Salford could wake up on Friday morning with a seismic change in their political landscape, with a 'yes' vote triggering polling for a new mayor in three months time.
However as Prof Tonge said, tackling Salford's endemic social and economic problems will need more than a change in local democracy or a high profile mayor like London's Boris Johnson.
"A successful public/private partnership with government investment has transformed Manchester, it will take more than an elected mayor to change Ordsall or Lower Broughton," he added.