Deaf charity 'appalled' at Salford council cuts plan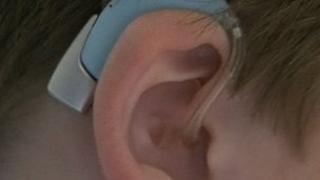 A charity said it was "appalled" by plans to cut support for deaf children in Salford.
The National Deaf Children's Society (NDCS) said the city council must "immediately halt" plans for deaf support posts to be reassigned to other special educational needs.
NDCS deputy director of campaigns Jo Campion said the cuts were "some of the worst we have seen".
Salford City Council said no final decisions had been made.
The plan, which has been sent to council staff for consultation, would see the number of teachers of the deaf in the city cut from four to two and the specialist teaching assistant posts drop from five to two.
Salford City Council said the staff serve 54 children aged between five and 16, though NDCS said the number was higher when pre-school and further education students were taken into account.
Ms Campion said NDCS was "absolutely appalled that the council is considering taking away support from a group of children who need more support, not less, and are calling on the council to immediately halt its plans".
"The cuts that Salford City Council is planning to make are some of the worst that we have seen in the country," she said.
"Deaf children in the region are already underachieving at school, even though deafness is not a learning disability, as 65% of these vulnerable children in the North West fail to achieve five good GCSEs."
Salford mother Sarah Grimshaw said the changes would have "a huge impact" on her son, who receives support from the existing team.
"He would struggle with the work they are doing, because he wouldn't have that back-up support," she said.
The council said the posts would not be cut, but moved to support other children with special educational needs.
Councillor Margaret Morris, lead member for children's services, said members were "currently reviewing the way we support children with special educational needs in the city in order to ensure our schools are able to cater for a wide range of different needs".
"Children who already have statements of special educational need will continue to receive support," she said.
"We are also introducing new services for children with physical, communication and behavioural impairments, in order to keep them learning in mainstream schools wherever possible.
"We have just started to consult with staff on some of our proposed changes but as yet no final decisions have been made."