Manchester tunnel raid foils new Shameless storyline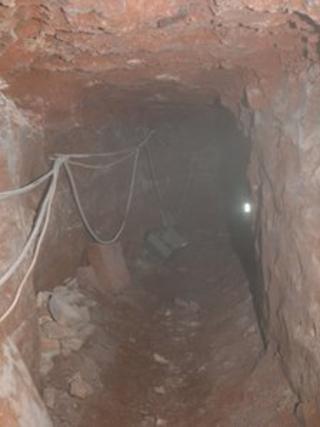 Raiders who stole thousands of pounds by tunnelling under a cash machine foresaw a new storyline from TV show Shameless, its producers have said.
Thieves escaped with £6,000 after digging a 100ft (30m) tunnel to gain access to a cash machine in Greater Manchester, where the show is filmed.
Police believe the same gang carried out a similar raid in 2007.
Producers of the Channel 4 show said a similar plot would be a cliff-hanger two-part story in the current run.
In the television version, Frank Gallagher (played by David Threlfall) is among the work-shy Chatsworth estate residents who use a tunnel to steal lottery scratch cards.
But their escapade is doomed when the tunnel collapses.
'Top secret storyline'
Production staff on the series spent months planning the storyline, creating an underground set with caverns, ventilation tunnels, access shafts, sewers and vertical shafts which were more than 30ft (9m) high.
Cast and crew had to be strapped into safety harnesses to allow them to travel down the shafts.
The real thieves in Manchester dug their underground tunnel to get to a cash machine on 2 January at Blockbuster in Fallowfield Shopping Precinct.
A similar plot was foiled in the same area in 2007 and police believe the latest tunnel may have been the work of the same gang.
Thieves dug the tunnel directly under the cash machine and used machinery to cut through more than 15in (38cm) of concrete to steal the money.
Shameless producer Jean Holdsworth said: "We've spent months working and filming our tunnel heist, which we thought was a top secret storyline.
"We couldn't believe it when we saw the news at the weekend," he added.