Manchester to get new pools under city council plan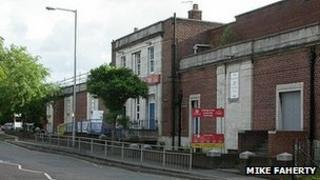 Manchester could get three new leisure centres under proposals announced by the city's council.
The plan, which would require funding from "a variety of funding sources", would see new centres in Chorlton-cum-Hardy, Beswick and Levenshulme.
A council report identified the existing pools in the areas as having "high running costs and poor value for money".
Councillor Mike Amesbury said the pools would "save money over time".
The £18m proposal recommends joint leisure and library centres in Chorlton and Levenshulme and a new leisure centre in Beswick to replace Miles Platting Pool.
The report, which will go before the council's executive on 18 January, singled out buildings at Levenshulme, Miles Platting and Chorlton as "not meeting modern standards".
It said the plan, which the council intends to fund via private investment and national sports funding, would mean that 97% of Manchester residents lived within 20 minutes of a swimming pool.
Mr Amesbury said that, if passed, the proposals could bring "state-of-the-art leisure and library facilities for residents of the Levenshulme, Chorlton and East Manchester areas".
"Just as significantly, they will save money over time in maintenance and running costs," he said.
In February 2011, both Levenshulme Baths and Miles Platting Pool were earmarked for closure as part of a council savings plan.
Following a campaign by local residents, the council announced Levenshulme would not be closed, but instead be replaced by a new facility.