Tribute to motorcyclist killed in Flixton crash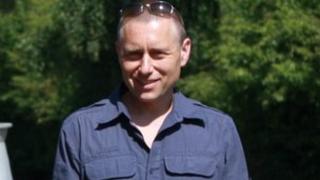 The wife of a police officer who died in a crash on his motorbike in Greater Manchester has paid tribute to him.
Gerry Chambers, 41, an officer with Greater Manchester Police, came off his Honda bike in Flixton Road, Flixton at about 00:50 GMT on Thursday.
Mr Chambers leaves behind his wife Jackie, a two-year-old son, Hugh, and one-year-old girl, Charlotte.
"He was my best mate and I miss him so much. I feel numb and am just about functioning," said Mrs Chambers.
"He will be greatly missed by his family, friends and colleagues.
"I am trying to focus on the children and how they will cope with losing their dad."
Mr Chambers served in the police force for eight years.
An investigation into the circumstances surrounding the collision is continuing. Police have asked anyone with information to contact them.