Stepping Hill Hospital saline inquiry: Nurse arrested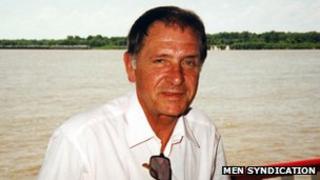 Police investigating the poisoning of patients at Stepping Hill Hospital have arrested a nurse on suspicion of tampering with medical records.
The arrest came as it emerged a fourth death, of 82-year-old Bill Dickson on New Year's Eve, was being investigated.
Three people died and 16 others were affected by the contamination of saline at the Stockport hospital last summer.
The arrested man, 46, is being held over reports medical forms were altered and a patient given extra medication.
"At this time the arrested man is being questioned in relation to these matters only," a police spokesman said.
He was arrested under section 23 of the Offences Against the Person Act - namely unlawfully or maliciously administering or causing to be taken by another person any poison or destructive or noxious thing so as to endanger life or inflict grievous bodily harm.
The nurse, from Stockport, was one of the 650 people already spoken to by police since their investigation started.
Three wards
The patient who was given additional amounts of medication was monitored by hospital staff and has since been discharged, the spokesman said.
In the wider investigation, police believe 20 people have been deliberately poisoned, including Tracey Arden, Arnold Lancaster and Derek Weaver, who died in the summer.
Mr Dickson, of Cheadle Hulme, had his saline poisoned over the summer, and eventually died on 31 December.
Police have yet to establish a causal link between the deaths of the four patients and the contamination of their saline drips.
All four deaths took place on wards A1, A2 or A3, which are acute care wards for seriously ill patients.
They are still considering the case of a 21st patient.
The cases of 21 other patients who suffered hypoglycaemic episodes are not being treated as suspicious.
Nurse Rebecca Leighton was charged with criminal damage with intent to endanger life and theft in connection with the inquiry.
The charges against her were dropped in September, due to insufficient evidence.
'Search for truth'
She was sacked by Stockport NHS Foundation Trust after admitting stealing opiate drugs but is appealing against the decision.
Assistant Chief Constable Terry Sweeney said: "This is and always has been a search for the truth.
"It is due to the diligence of staff at the hospital that we were made aware about the potential tampering of medical records and everyone should be reassured that, like the hospital, we initiated a swift response and have consequently arrested a member of staff in relation to this matter.
"I must stress that at this time he is only being spoken to in relation to these matters and as we have previously said we will not and cannot rule out making further arrests in the coming days or weeks."
The hospital's chief executive Chris Burke stressed no patient had been harmed in the recent incident, "because of highly experienced doctors and nurses immediately spotting the changes on prescription charts".
He added: "This criminal act does not reflect on the good care provided by dedicated and committed staff and the effective working practices in our hospital.
"The safety of our patients remains our highest priority."