Manchester indoor shisha smoking clampdown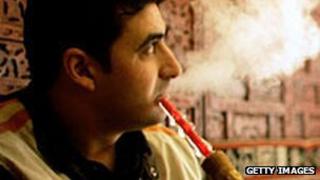 A warning has been issued to shisha cafes in Manchester about allowing customers to smoke indoors.
More than 30 bars providing pipes for people to smoke fruit-flavoured tobacco have opened in Rusholme in the past three years.
Health officials say smoking in enclosed areas is against the law.
Director for public health for Manchester David Regan said the council was working with cafe owners to "make them aware of the consequences".
He said: "We are aware that there are a number of premises who are allowing shisha smoking in an enclosed public space, so they are breaking the law.
"We had a successful magistrates ruling just before Christmas with one particular premises.
"We are working with the police, HM Revenue and Customs and the fire service and we will be targeting these cafes around enforcement issues this year."
The smoking ban introduced in 2007 covers enclosed public places, including pubs and bars.