Anuj Bidve killing: Kiaran 'Psycho' Stapleton remanded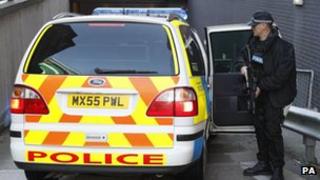 A man describing himself as "Psycho Stapleton" has appeared in court charged with murdering student Anuj Bidve who was shot dead on Boxing Day.
Kiaran Stapleton, 20, of Salford, was remanded in custody by Manchester magistrates over the death of the 23-year-old in Ordsall Lane, Salford.
Mr Bidve, from India, was studying at Lancaster University and was visiting Greater Manchester over Christmas.
He was shot in the head at close range at 01:30 GMT.
When asked his name in court, Mr Stapleton replied: "Psycho. Psycho Stapleton."
Officers in India
The defendant, wearing a grey T-shirt and grey jogging bottoms and flanked by two police officers, then confirmed his date of birth.
Prosecutor Ben Southam told the court the case had to be sent to Manchester Crown Court as Mr Stapleton was charged with murder.
Mr Bidve's father, Subhash Bidve, has been critical of the way the British and Indian authorities have handled the case. He found out about his son's death on Facebook, hours before receiving official confirmation from the authorities.
He has also criticised the length of time it is taking for his son's body to be released to the family.
Two senior officers from Greater Manchester Police have met Mr Bidve's family in their home town of Pune in India.
Assistant Chief Constable Dawn Copley, of Greater Manchester Police, said: "We felt it was important to make personal contact with the family and offer them every support we could at this difficult time.
"We need to explain to them in person where we are up to in the investigation and what we are doing to ensure Anuj's body is released to them as soon as possible.
"Having this conversation face-to-face is absolutely the right thing to do and we will of course continue to provide whatever support we can when the family arrive in the UK and once they have returned home."
Ms Copley said officers had been liaising with the coroner about returning Mr Bidve's body to his family.
About 200 people gathered at 18:00 GMT in Ordsall Lane, Salford, for a candlelit vigil for Mr Bidve.
Organiser Vikrant Gupta said "a lot people have turned out and mainly the local community has come out and they're showing their support".
The student's death was "an incident which has happened out of the blue and which was not meant to happen and the only thing we can now do is support the family back in India and pay our respects".
Earlier, friends of Mr Bidve gathered for a vigil in New Delhi.
Mr Bidve arrived in the UK in September, to study for a micro-electronics postgraduate qualification at Lancaster University, having completed an electronics degree at Pune University.
His family described him as a "loving son, a super-caring brother and first and forever a friend for many".
Five people have so far been arrested by police in connection with the inquiry.
Three have been bailed until March 2012 pending further inquiries. A fourth man, aged 19, who was originally bailed on Saturday has since had his "bail cancelled", police said.