Anuj Bidve murder: Police regret Facebook death news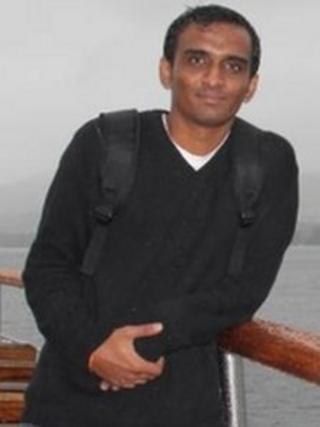 A police chief has said she regrets how the father of an Indian student shot in the head in Salford on Boxing Day found out about the murder on Facebook.
A £50,000 reward has been offered by Greater Manchester Police to find the killer of 23-year-old Anuj Bidve.
The Lancaster University student was shot by a white man in the early hours.
Assistant Chief Constable Dawn Copley said Mr Bidve's father read about the murder online before officers were able to deliver the news.
Senior officers from the force said they hoped the cash reward would help get the gunman caught as soon as possible.
Det Ch Supt Mary Doyle, who is leading the murder inquiry, said: "It is an extremely unusual, savage and motiveless attack, an absolutely horrific crime, which is why we are taking the step of issuing [the reward] a bit earlier than we normally would.
"We absolutely understand the need to take whoever is responsible for this off the streets.
"That's the reason we are issuing it now at such an early stage."
Five people were arrested on suspicion of murder and three of them, a 16-year-old and two 17-year-olds, have been released on bail.
Two men aged 19 and 20 are still being questioned by detectives.
Speaking about the fact Mr Bidve found out about his son's death on Facebook, ACC Copley said: "That is not the way anyone should have to find out something so devastating and we completely understand how upset the family are.
"Social networking is instantaneous and we have no control over when and what people post on such sites, but no-one should hear such tragic news in this way."
"I want to reassure the family that staff across the whole of Greater Manchester Police are working on this investigation night and day to bring those responsible for Anuj's murder to justice."
Mr Bidve was in a group of nine male and female Indian students who were visiting Greater Manchester during the holidays.
The students, who had not been drinking, were walking through Ordsall from their hotel towards the city centre at about 01:30 GMT when they became aware of two men on the other side of the street.
The gunman, a white man in his 20s who was wearing a grey top, walked across the road and engaged the victim in a short conversation before producing the gun and shooting the student at close range in the side of the head.
The killer ran back across the street before he and the other man fled on foot towards Asgard Drive and the Ordsall housing estate.
'Working very hard'
Mr Bidve, who was studying for a postgraduate qualification in micro-electronics, was taken to hospital where he died a short time later.
ACC Copley said: "A family liaison officer was quickly put in place after Anuj's murder who made exhaustive inquiries to try and inform the family and deliver the awful news personally.
"Unfortunately, as the officer was attempting to contact the family through the right channels, a post was put on Facebook.
"Since then, we have had two family liaison officers in regular contact with Anuj's immediate family and those who speak on his behalf to keep them updated about every step of the progress of the investigation.
"Greater Manchester Police is also working very hard to bring the family over to Manchester as soon as possible.
"For reasons beyond the family's control, it is unlikely they will be able to do so until early next week so the force is putting plans in place to send officers to India to offer support."
Speaking to BBC Radio 5 live earlier, the victim's father said his family were "really worried" about the repatriation of his son.
"The last four days we have been feeling so much trauma because we are yet to know when Anuj can come back," he said.
"We are really worried. All family members are worried about it.
"Everyone at home, they are all shattered and waiting for his remains to do all religious things."
In response, Ms Copley said "We understand how important this is for the family and we are working closely with the coroner to ensure the family can bring Anuj's body home as soon as possible.
"The body cannot be released at this stage of the investigation but we are doing everything we can to respect the family's wish."
Police are trying to trace the murder weapon, which is believed to be a small handgun.
Anyone with information is being urged to contact police.